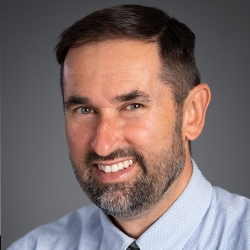 Jackson Wilson
Professor and Chair
SF State Academic Senate; Center for Equity and Excellence in Teaching and Learning; Online Education Committee
Email: wilsonj@sfsu.edu
Location: HSS 335
B.A. Economics, University of Washington
M.A., Economics of Education, Columbia University
Ph.D., Leisure Behavior, Indiana University
Health impacts of recreating in outdoor spaces
Marginalized groups in parks and other outdoor spaces
Management issues in adventure education & outdoor recreation
Online education in recreation, parks & tourism
Research methods
Jackson Wilson is an Associate Professor and the graduate coordinator for the Master of Science in the Recreation, Parks & Tourism graduate program.  Dr. Wilson teaches the core graduate courses, foundations and research methods, provided by the department as part of our three campus graduate collaboration.  He also developed and consistently teaches the undergraduate information technology course.
Dr. Wilson currently serves or recently served in a number of campus leadership roles.  This includes a long-term role as the chair of the University Online Education Committee and chairing the College of Health and Social Sciences Online Education Committee.  Dr. Wilson is currently the chair of the Academic Senate's Academic Policies Committee and serves on the senate's executive committee.  He is also the lead faculty fellow for the Quality Learning & Teaching program and is a faculty fellow with the Center for Equity and Excellence in Teaching and Learning.
Dr. Wilson's research interests include marginalization and public park space, the health impacts of recreating in outdoor spaces, and online education.  A recent study of his examined urban resident's (dis)comfort sharing urban park spaces with coyotes.
When he is not working, Dr. Wilson enjoys natural spaces with his family.  A perfect day includes a long walk listening to a great audio book.