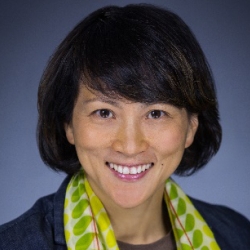 Aiko Yoshino
Associate Professor
RPT
Email: ayoshino@sfsu.edu
Location: HSS 338
Dr. Yoshino is an Associate Professor in the Department of Recreation, Parks & Tourism at San Francisco State University (SF State). Her scholarly agenda is rooted in the health impacts of exposure to nature. Her research includes the psychological resilience gained through extended wilderness-based programs as well as nature-based interventions for marginalized communities to prevent chronic illnesses. She works closely with community-based organizations for research, teaching, and innovative program development.
Her teaching experience includes a range of levels, elementary to college, and places, educational outdoor expeditions from Alaska, Taiwan to the Himalayas.  She serves for the Outward Bound USA National Safety Board, the SF State Center for Equity and Excellence in Teaching and Learning Advisory Board, and East Bay Regional Parks District Multicultural Advisory Committee. Dr. Yoshino is originally from Japan, an enthusiastic educator, a collaborative scholar, and a mother.
Yoshino, A., Wilson, J., Velazquez, E., Joshnon, E., & Márquez-Magaña, L. (2018). Impact of organized park event on stress: Healthy Parks Healthy people as an upstream stress reduction strategy. Recreation, Parks, and Tourism in Public Health Journal, 2, 35-56. 
Yoshino, A., & Corona, A. (May, 2018). The East Bay Regional Park District's Adventure Crew/Richmond Rangers Youth Program: An inquiry into Program Outcomes and the Elements for Success (Vol. 1, pp. 39) Oakland, CA: East Bay Regional Park District.
Wilson, J., McGinnis, N., Látková, P., Yoshino, A., & Tierney, P. (2016). Urban park soundscapes: Association of noise and danger with perceived restoration. Journal of Park and Recreation Administration, 34(3), 16-35.
Role: Assist in literature review, research design, manuscript editing.
Ewert, A., & Yoshino, A. (2011). The influence of short-term adventure-based experiences on levels of resilience. Journal of Adventure Education and Outdoor Learning. 11(1), 35-50.
Yoshino, A. (August, 2018). Outdoor Recreation as a strategy to get children and youth active. Presentation at the North American Society for Paediatric Exercise Medicine, Oakland, CA.
Yoshino, A. (2018). Nature and resilience – the adventure education perspective. Presented at the Exploring Nature and Health: The Latest Science and Strategies to Integrate Nature into Patient Care, UCSF Benioff Children's Hospital Oakland – Center for Nature and Health (CNH) and Primary Care Clinic.
Yoshino, A. (2015, February). Experiential Learning – A Tale from An Immigrant Woman of Color. Keynote Speech at Association for Experiential Education West Regional Conference, San Francisco, CA, February 26-28.