We Prepare Students to Thrive in a Global Society 
Our department has many opportunities to support your academic and career goals. Tap into our 400+ Bay Area partnerships and faculty network to start your journey. Engage in fun internship opportunities and learn more about potential career pathways!
Shine in the Job Market

SF State gives you the ability to connect so many opportunities, and our major specifically helps you build the skills and the connections you need to have a meaningful and rewarding career.
Job Opportunities
Recreation and Parks 

| Job Title  | Description  | Salary range*  |
| --- | --- | --- |
| Park & Recreation Agency Director  | Oversee the operations and finances of public parks and recreational spaces, typically under the supervision of the city manager  | $110-150,000  |
| Athletics Supervisor  | Administer and participate in the scheduling of athletic facilities for classes, recreation use, and use by outside groups  | $40-95,000  |
| Park Ranger  | Ensure campers, hikers and other visitors follow the rules, enjoy their experience and take care of the natural environment; research, develop and conduct educational programs  | $70-85,000  |
| Environmental Educator  | Plan events, activities and programs to inform the next generation on environmental issues and how they can help  | $45-90,000  |
Tourism

| Job Title  | Description  | Salary Range*  |
| --- | --- | --- |
| Convention & Visitors Bureau Executive Director  | Lead and direct the administrative, operational, sales, marketing and communications functions of a convention and visitors bureau  | $102-110,000  |
| Cruise Ship Director  | Create a fun atmosphere while engaging guests at all times through a series of activities, shows, events, presentations, communications and socializing throughout the cruise.  | $47-53,000  |
| Amusement Park Manager  | Oversee all aspects of the day-to-day operations of the theme parks such as ride maintenance, customer revenue and park cleanliness. Perform administrative duties and engage with staff and customers.  | $68-113,000  |
Events

| Job Title  | Description  | Salary Range*  |
| --- | --- | --- |
| Director of Events   | Recruit and manage staff, direct event/program management, and oversee the successful execution of high-level events/meetings/conferences.   | $70-84,000  |
| Theater Operations Manager  | Recruit, train, motivate, develop and coordinate the activities of a location's personnel to ensure an effective operation and excellent guest service.  | $48-53,000  |
| Events Coordinator   | Oversee and facilitate all aspects of meeting planning: site selection, vendor negotiation, event registration, marketing, on-site staffing and post-event reporting.  | $47-55,000  |
*Based on the San Francisco Bay Area region posted on Indeed.com, Glassdoor.com, and salary.com as of January 2022. 
Holistic Health Practices

| Job Title  | Description  | Salary Range*  |
| --- | --- | --- |
| Acupuncturist   | Promote healing, alleviate pain and improve overall health by using specialized needles at specific pressure points on the body.   | $54-88,000  |
| Naturopath Practitioner  | Trained as primary care providers, naturopathic physicians treat and manage patients with acute and chronic conditions using natural healing methods, including acupuncture, reflexology, hydrotherapy, herbal medicines, biochemical therapy, clinical nutrition, homeopathy and counseling in their treatment.   | $72-220,000  |
| Massage Therapist  | Manipulate muscle groups and trigger points using touch to relieve pain, heal injuries, improve blood circulation, relieve stress and increase relaxation.   | $40-130,000  |
 

Health and Fitness

| Job Title  | Description  | Salary Range*  |
| --- | --- | --- |
| Registered Dietitian   | Promote healing, alleviate pain and improve overall health by using specialized needles at specific pressure points on the body.   | $72-220,000  |
| Nutritionist  | Improve health and wellness through crystal healing, sound therapy or radiation to align chakras, which are energy points in the body.   | $68-97,000  |
| Physical Therapist  | Provide treatment for patients with chronic conditions, illnesses and injuries with goals of improving movement and managing pain.   | $65-130,000  |
Wellness

| Job Title  | Description  | Salary Range*  |
| --- | --- | --- |
| Mental Health Coach  | Help clients manage emotions, challenge negative thinking patterns, improve personal and relationship skills and reduce environmental stressors.   | $64-132,000  |
| Licensed Professional Counselor   | Professionally trained to work with diverse populations, ranging from individuals to groups or families, to treat mental, emotional and behavioral problems.    | $60,000  |
| Wellness Coordinator  | Coordinate, plan, and facilitate health and fitness activities and programs to promote health lifestyles; plan events and seminars; and lead comprehensive wellness programs in public and/or private industries.  | $56-94,000  |
*Based on the San Francisco Bay Area region posted on Indeed.com, Glassdoor.com and salary.com as of January 2022. 
RPT Professional Development Opportunities
LinkedIn Learning (formerly Lynda.com): free access via public library membership (courses/certificates)
Eventbrite (search for "key words" in your area of interest)
Blazing Saddles Bike Rentals and Tours
Campus Recreation and SF State
City of Daly City - Library & Recreation Services
City of Menlo Park: Community Services Department
City of Mill Valley Recreation
City of Pacifica
City of Redwood City Parks & Recreation Department
City of South San Francisco, Parks & Recreation
Gatepath (nonprofit focused on developmental disabilities)
Giants Enterprises (AT&T Park)
Golden Gate National Parks Conservancy
Hornblower Cruises & Events
Hostelling International USA
Jewish Community Center of San Francisco (JCCSF)
Literacy for Environmental Justice
Marbles Found
MFactor Meetings 
Outdoor Adventure Club
Outward Bound California (adventure education)
Pacific Leadership Institute (ropes course)
Real Options for City Kids (ROCK)
Recess (playspace for children and adults)
San Francisco 49ers STEAM Education Program
San Francisco Recreation & Park Department
San Francisco Travel Association
San Francisco Youth Soccer
Santa Clara County Parks
Shanti Project (nonprofit)
Small Potatoes Catering & Events
The California Academy of Sciences
The Ranch (City of Belvedere and Tiburon Recreation)
Travis Air Force Base Outdoor Recreation
UCSF Fitness & Recreation
YMCA of San Francisco
Youth Outside
Our students have a variety of different passions and skillsets that greatly benefit your company and/or organization. Our students seek real-world work experience, quality mentorship, challenging projects, and feedback for continuous improvement.
RPT college seniors enrolled in RPT690: Internship in Recreation, Parks, and Tourism during Spring (Jan-May) and Summer (Jun-Aug) seek internships with the goal of securing a job after graduation. Since RPT seniors must commit a total of 400+ internship hours, they seek experiences similar to a management/technical training program and can perform at their optimal if benefits (e.g., stipend, wages, transportation fee, etc.) are available.
Email the RPT Department: rpt@sfsu.edu with the following information to let us know about your internship opportunity:
Internship Title
Company/Organization Name
Roles and Responsibilities
Qualifications and Requirements
Contact Information
**Please include a PDF flyer or website link for the application.
We will review your internship opportunity and reach out with updates.
SF State Student Resources
Gain Real-World Experience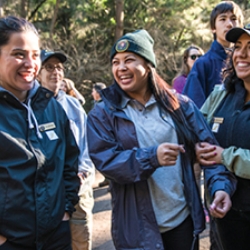 RPT 690 Internship in Recreation, Parks & Tourism
Eligibility: Upper-division RPT majors, internship eligibility, and consent of the instructor. 
Time Commitment: 400 hours 
Academic Credit: 12 units 
Example Experiences: Operations, facilities, marketing, finance, and programs/services.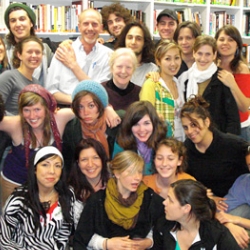 HH 680 Holistic Health Internship Seminar
Eligibility: Students who have completed General Education (GE) requirements: A1, A2, A3, & B4 with grades C- or better; or permission of the instructor.  
Time Commitment: Depends on the internship (~50-100 hours)
Academic Credit: 3 units 
Quick Links