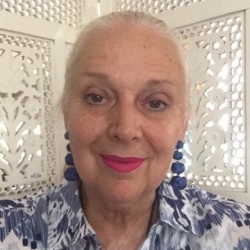 HH
Email: umabhatn@sfsu.edu
Location: HSS 319
Biography
Dr. Uma Bhatnagar is a Doctor of Acupuncture and Oriental Medicine (DAOM). She is a California board-certified acupuncturist and Chinese herbalist. She is also a Certified Ayurvedic Practitioner (CAP) and is trained in Tibetan medicine. Dr. Bhatnagar's multi-cultural approach to health and healing began as an undergraduate at Sarah Lawrence College, where she graduated with a Bachelor of Arts. Dr. Bhatnagar did her graduate studies at the University of Pennsylvania in the Department of Oriental Studies, where she studied Hindi and Sanskrit, and received a Master of Arts. In addition, Dr. Bhatnagar was a PhD candidate in Indian Philosophy. At the University of Pennsylvania, Dr. Bhatnagar received the U. S. State Department Foreign Language and Area Studies Fellowship (FLAS) for three years for Hindi language study. Dr. Bhatnagar graduated from the American College of Traditional Chinese Medicine (ACTCM) and received a Master of Science. Later, she received a Doctorate of Acupuncture and Oriental Medicine degree (DAOM) from ACTCM. Her thesis was on "Fetal Education in Early and Medieval Chinese Medicine".
As a SF State Holistic Health faculty member since 2003, Dr. Bhatnagar brings the perspective of a clinician, scholar, and educator. At SF State, she has taught upper-division students, and developed original course content. Dr. Bhatnagar offers an integrative model of healthcare, highlighting Complimentary Alternative Medicine and medical systems of theory and practice from China, India, and Tibet. She has also initiated interactive mind and body practices such as meditation, Qigong, Yoga, as well as, preventive diet and nutrition. She is committed to providing students an integrative, practical, and transformative model of healthcare.
Dr. Bhatnagar's research and teaching interests include the transmission and interaction of Greek, Islamic, Chinese, Ayurvedic, and Tibetan medicine along the Silk Road. Other areas of interest include chronic inflammatory disease, autoimmunity, and, in particular, the integrative treatment of traumatic stress.